How Do I Leave a Business Partnership in New Zealand?

Updated on March 23, 2022
Reading time: 5 minutes
If a business partnership is like a marriage, the end of a business partnership can often look like a divorce. However, it is still possible to maintain civility even in a challenging situation. There are several reasons why you may want to leave a business partnership. For example, you may want a career change, to retire, seek a new business venture, or experience challenges working with your current business partners. No matter the reason, there are some steps you can take to ensure that you maintain your business relationship and make a smooth exit from the partnership. 
This article will explain what a business partnership is and outline what to consider when leaving a business partnership. This includes;
looking at your partnership agreement;

filing your taxes;

considering what to do with your assets;

thinking about the level of involvement you wish to maintain with the business; and

maintaining good standards of behaviour with your ex-partners. 
What is a Business Partnership?
In a business partnership, you share your business's ownership, control, profits, and losses with one or more people. Business partners commonly have an equal share in the business unless this has been set out differently in the partnership agreement. 
What Should I Consider When Leaving a Business Partnership?
Partnership Agreement
The first thing to do is look at the details of your partnership agreement. This should outline what steps should be taken when a partner wishes to leave the partnership. Ensure that this agreement is adhered to, or you risk further legal action. Adhering to this process will also allow for better preparedness of the remaining partners in the business, as they will have a clear understanding of the process. This is likely to keep the relationship between partners friendly.
If you did not write a formal partnership agreement, it is good to bring in a third party or a neutral person to help you and your fellow business owners set out a plan to leave the partnership. 
File Your Taxes 
You will need to file a final income tax return as a member of the partnership. If the partnership is making a loss, you will need to declare that in your partnership. Additionally, if the partnership is still making a profit, you must also declare this in your tax return. 
Assets
You will need to split or sell your share in any communal business assets that you share with your partner that you do not wish to take with you from your partnership. If you wish to keep any assets that belong to the partnership, you will need to chat with your fellow partners to see if they will let you buy the asset from the partnership. This includes any intellectual property you may have. Intellectual property can sometimes be tricky to keep. It will depend on your circumstances and specific details of where and when you created the property and the existence of any copyrights as to whether you can keep this property.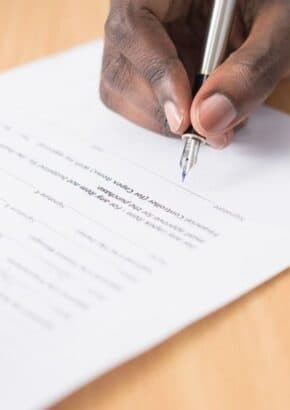 Commercial Contracts Checklist
To protect your business, ensure supplier contracts meet your business' needs. Our free Commercial Contracts Checklist will help.
Download Now
Level of Involvement 
If you still wish to have some involvement with your business, you have some options available to you. Of course, this will depend on your relationship with your other business partners, but if you remain friendly, it is quite possible to maintain a minor role.
For example, you could retain some shares in your partnership, which would allow you to keep some income from your business. Additionally, you could maintain a directorship or consulting role to stay involved with the business operations. 
Be Friendly and Considerate
Whether or not your exit from the partnership was expected, or your relationship with your ex-partners remains friendly, it is still a good idea to continue to act professionally and appropriately when ironing out the details of your exit from the partnership. Even if you left on excellent terms, it will likely still be stressful for your partners to find a new partner or re-allocate the workload of the business.
Maintaining a professional manner when dealing with the split will also protect your reputation with individuals and businesses with who you may want to work in the future. 
Key Takeaways
Leaving a business partnership can be a complicated process. Despite best intentions, feelings can sometimes get hurt, and people can be overwhelmed by changes in their professional lives. Therefore, if you are deciding to leave a business partnership, it is essential to:
follow the process for exit set out in your partnership agreement, or bring in a professional to create an exit strategy;

file your taxes;

make a plan of what to do with your shared assets;

think about the level of involvement you wish to maintain with the business; and

maintain professional standards of behaviour. 
If you need help with leaving a business partnership, our experienced business lawyers can assist as part of our LegalVision membership. For a low monthly fee, you will have unlimited access to lawyers to answer your questions and draft and review your documents. Call us today on 0800 005 570 or visit our membership page.
Frequently Asked Questions
Can I leave a business partnership at any point? 
Yes, you can leave a business partnership whenever you choose, so long as it is not a breach of the terms of your partnership agreement. However, try to avoid leaving anyone in the lurch, as this can negatively impact your professional relationships. 
Will I lose all property that I have invested in the business? 
Your partnership agreement should outline the division of property and assets between partners. If you wish to contest something, you should chat with your ex-partners and see if there is an opportunity to buy some property from the business. 
Was this article helpful?
Thanks!
We appreciate your feedback – your submission has been successfully received.
About LegalVision: LegalVision is a commercial law firm that provides businesses with affordable and ongoing legal assistance through our industry-first membership.
By becoming a member, you'll have an experienced legal team ready to answer your questions, draft and review your contracts, and resolve your disputes. All the legal assistance your business needs, for a low monthly fee.
Need Legal Help? Submit an Enquiry
If you would like to get in touch with our team and learn more about how our membership can help your business, fill out the form below.
Read other articles by Abby
<!-/- Related Articles - Item -/->