How to Respond to a Client Termination Email in NZ

Updated on July 20, 2022
Reading time: 5 minutes
Receiving a client termination email outlining that they no longer need your services is never a pleasant experience. However, suppose you respond in a calm and collected manner. In that case, you will hopefully be able to continue a professional relationship with them whilst upholding the values of yourself and your business. This article will outline how a client can terminate a contract and how best to respond if they do.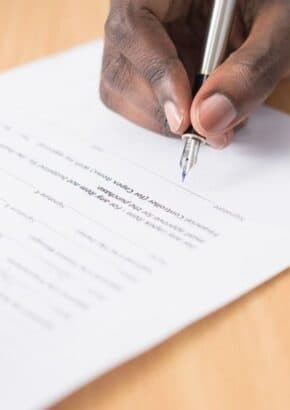 Commercial Contracts Checklist
To protect your business, ensure supplier contracts meet your business' needs. Our free Commercial Contracts Checklist will help.
Download Now
What Are Contracts?
Contracts are legal agreements between two parties, often for goods or services. Further, a contract outlines the obligations and relationship between the two consenting parties who sign the contract. Therefore, it is vital to recognise that contracts, and all the terms within them, are legally binding.
How Can Contracts Be Terminated?
There are some general reasons for which a party can legally terminate a contract, including:
if the party can't fulfil their obligations, they can ask for termination of the contract to occur (impossibility of performance);
if you create the contract in circumstances that involve fraud, misrepresentation or mistake;
if the subject of the contract is or becomes illegal;
in the case that a party fails to perform the contract or violates the terms of the contract without justification.
There are also additional reasons that a contract termination may occur. However, it would help if you outlined these clearly in the contract. Additionally, most contracts will contain a clause allowing either party to terminate the contract alongside the notice period they must comply with. Furthermore, you should examine your contract with the client and ensure they terminate it on valid grounds.
What if Your Client Illegally Terminates the Contract?
If the client terminates their contract on illegitimate grounds or breaches it before termination, you may have to take further legal action. Depending on the terms of the contract, the client may have to make a final payment for any work you do under the contract or for any materials you buy or use. If they refuse to do so, you may be able to take legal action against them. Further, if the court determines that they breached the contract before termination, the court may grant you a few remedies, including:
monetary damages, which would put you back in the position you would be in if you did not sign the contract;
restitution which places the innocent party in the position they were in before entering the contract. So, the breaching party must return any gains they make to the other party;
if monetary damages are inappropriate, the court may ask your client to perform their obligations under the contract.
The client should outline the terms under which they wish to terminate the contract. They may not need to provide multiple reasons or give an in-depth explanation. However, they must provide a valid reason to terminate the contract. If not, you should respond and calmly ask why they would like to terminate the contract.
It is harmful to call the client a liar or comment about them not understanding the contract. There is always the risk that a conflict like this will escalate to court unnecessarily, which will be costly and time-consuming for both parties.
Be Professional and Respectful in Your Response
Given you were in an arrangement with this client, it is likely that you will know and have spoken to them personally. Further, you will likely know what kind of person they are and how they engage in business. Some of their behaviour may indicate that this termination was coming. Moreover, you may have previously undergone negotiations about the terms of the contract or the performance of the contract. This gives you time to prepare mentally and respond in a measured way. However, if your client's termination letter blindsides you make sure you do not send a response without carefully considering its tone and emotion.
Even if the client is wrong, you can maintain your reputation by responding in a calm, measured manner. Your response should remain polite and professional.
Key Takeaways
You may be upset or uncomfortable if you receive a client termination email. However, you should not respond emotionally and say things that may reflect poorly on you or your business later. Understanding how and why the termination occurs is essential, and any legal obligations that may flow from this termination for both parties are essential. If the contract termination occurs because are not legitimate, you may need to take further legal action against your client. 
If you need help with understanding your contractual obligations, our experienced commercial lawyers can assist as part of our LegalVision membership. You will have unlimited access to lawyers to answer your questions and draft and review your documents for a low monthly fee. Call us today on 0800 005 570 or visit our membership page.
Frequently Asked Questions
What do I do if my client has caused me significant trouble before cancelling the contract?
It is best to remain as professional as possible when dealing with clients. If the client has breached your contract, it is possible to take legal action against them. Make sure you do not harass or behave inappropriately towards a client, even if they are in the wrong.
Can a client terminate a contract on any grounds?
No, some commonly accepted grounds for termination include the impossibility of performance, fraud, illegality and breach of contract. In addition, there may be other reasons contract termination can occur. However, they should outline them in the signed contract.
Structuring Your Business For Success
Tuesday 23 August | 11:00 - 11:45am
Online
Learn the best way to structure your business to maximise its success. Register today for our free webinar.
Register Now
Redundancies and Restructuring: Understanding Your Employer Obligations
Tuesday 27 September | 12:00 - 12:45pm
Online
If you are considering making roles redundant, it is crucial that you understand your legal obligations as an employer. Learn more in this free webinar.
Register Now
Was this article helpful?
Thanks!
We appreciate your feedback – your submission has been successfully received.
About LegalVision: LegalVision is a commercial law firm that provides businesses with affordable and ongoing legal assistance through our industry-first membership.
By becoming a member, you'll have an experienced legal team ready to answer your questions, draft and review your contracts, and resolve your disputes. All the legal assistance your business needs, for a low monthly fee.
Need Legal Help? Submit an Enquiry
If you would like to get in touch with our team and learn more about how our membership can help your business, fill out the form below.
Read other articles by Abby
<!-/- Related Articles - Item -/->