Key Contracts for a Service-Based Business in NZ

Updated on July 25, 2022
Reading time: 4 minutes
Contracts are essential for a service-based business as they protect your business interests and relationships. Specifically, a well-drafted contract can provide your business with legal safeguards if the other party breaches the agreement. This includes compensation or a court order compelling the other party to perform the promised work. However, to ensure your contract is enforceable, you should have a written agreement meeting all legal requirements. This article will outline the five key contracts for service-based businesses and why they are essential.
Service Contract
A service contract is an agreement between one party who provides the service and the other party who receives the service. The contract should include details relating to the following:
quality of work;
availability of the business;
responsibilities of both parties;
price; and
any other relevant information.
Employment Agreements
Service-based businesses will also often enter into employment agreements. Employment agreements outline the rights and responsibilities of both the employer and employee. It is a legally binding contract, meaning either party can seek legal action if the other breaches the agreement.
Notably, employment agreements contain legally protected rights. Therefore, you should include terms relating to termination and dispute resolution. Disputes between two or more employees are common, so you should have a dispute resolution procedure in place. Mediation is the most typical dispute resolution method, where both parties negotiate to find an agreed solution with the help of a third-party mediator.
Intellectual Property Agreement
If your service-based business supplies intellectual property to clients, you should consider drafting an intellectual property agreement. This agreement will determine what your client can use your intellectual property for and how long it will last.
Intellectual property agreements include:
patents;
trademarks;
copyright; and
trade secrets.
Your intellectual property agreement may also contain an enforcement clause that penalises the other party for using the intellectual property in a manner that the parties did not agree to in the contract. Additionally, you may also want to include extra provisions in your intellectual property agreement if you wish to protect your intellectual property overseas.
Contractor Agreement
Further, many businesses also utilise contractor agreements when engaging contractors. Contractors allow you to utilise extra workers without having to employ them. Accordingly, this means you can use them flexibly without offering them the same minimum entitlements as you would with an employee. A contractor agreement outlines the terms you use the contractor and details their obligations. It should also contain their remuneration and penalties for not completing a task within the specified timeframe.
Non-Disclosure Agreement
Further, if your business has trade secrets or confidential information you do not want in the public domain, you should have your employees sign non-disclosure agreements. A non-disclosure agreement prevents your employees from revealing anything outlined in the contract. It may also force employees to keep the information confidential after leaving your organisation.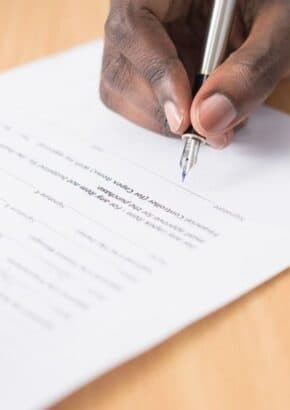 Commercial Contracts Checklist
To protect your business, ensure supplier contracts meet your business' needs. Our free Commercial Contracts Checklist will help.
Download Now
Key Takeaways
Contracts help protect your legal interests and build trust between you and your business partners, employees, contractors and clients. Service-based businesses typically deal with:
service contracts;
employment agreements;
intellectual property agreements;
contractor agreements; and
non-disclosure agreements.  
A contract is advantageous as it can be legally enforced, provided they meet all legal requirements. To ensure that your contract is enforceable, you should obtain legal assistance in drafting and finalising the agreement.
If you need help with a contract for your service-based business, our experienced contract lawyers can assist as part of our LegalVision membership. For a low monthly fee, you will have unlimited access to lawyers to answer your questions and draft and review your documents. Call us today on 0800 005 570 or visit our membership page.
Frequently Asked Questions
What happens if there is a dispute with the other party to the contract??
If there is no dispute resolution process outlined in your contract, then you should try to reach a compromise with the other party. If you cannot achieve this, you may need to settle the dispute in court.
Can my employee refuse to sign a non-disclosure agreement?
If the non-disclosure agreement is part of the terms of their employment, your employees must sign it if they wish to be employed.
Structuring Your Business For Success
Tuesday 23 August | 11:00 - 11:45am
Online
Learn the best way to structure your business to maximise its success. Register today for our free webinar.
Register Now
Redundancies and Restructuring: Understanding Your Employer Obligations
Tuesday 27 September | 12:00 - 12:45pm
Online
If you are considering making roles redundant, it is crucial that you understand your legal obligations as an employer. Learn more in this free webinar.
Register Now
Was this article helpful?
Thanks!
We appreciate your feedback – your submission has been successfully received.
About LegalVision: LegalVision is a commercial law firm that provides businesses with affordable and ongoing legal assistance through our industry-first membership.
By becoming a member, you'll have an experienced legal team ready to answer your questions, draft and review your contracts, and resolve your disputes. All the legal assistance your business needs, for a low monthly fee.
Need Legal Help? Submit an Enquiry
If you would like to get in touch with our team and learn more about how our membership can help your business, fill out the form below.
Read other articles by Dillon
<!-/- Related Articles - Item -/->