Key Contracts for a Retail Business in NZ

Updated on July 25, 2022
Reading time: 4 minutes
Commercial contracts are integral to all business agreements and transactions, and allow parties to build trust. Therefore, all retail business owners in New Zealand need to be familiar with commercial contracts. Contracts are legally enforceable as long as they contain all the elements of a binding contract. So, you must be aware of all your rights and responsibilities. This article will explore five key contracts a retail business will use and why they are essential to your business.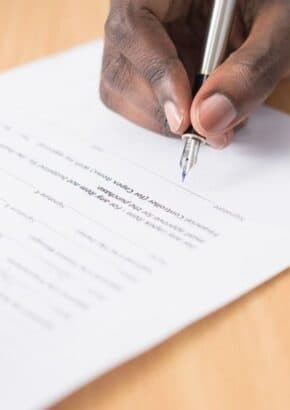 Commercial Contracts Checklist
To protect your business, ensure supplier contracts meet your business' needs. Our free Commercial Contracts Checklist will help.
Download Now
Suppliers Contract
As a retail business, you probably buy products from suppliers. You must enter supplier contracts with them so that a legally binding document underpins the arrangement. Importantly, your supply contract should detail all the terms related to the arrangement. It should also contain any terms relating to the Personal Property Securities Act (PPSA).
The PPSA outlines the law relating to the rights a creditor holds over the specific property until payment. If you have not paid your supplier for the goods you receive or if you have a payment plan, there is likely to be a security interest over the goods. Your supplier is also likely to have registered this on the Personal Property Securities register, determining who gets priority over certain goods if your business goes insolvent. 
Retention of title clauses in supplier contracts can also create a security interest. Such clauses outline that a supplier owns the goods until they receive full payment.
Employment Agreement
Another standard agreement that your retail business will use is an employment agreement. This contract outlines the relationship between an employer and all its employees. While the law details several employee rights, it is best to include these in your employment contracts. Such rights and responsibilities include leave entitlements and minimum wage.
Employment agreements should also contain terms surrounding termination and dispute resolution processes. For example, most employment agreements allow employees to terminate the contract with reasonable notice.
Lease Agreement
Most retail businesses will also enter into lease agreements. A lease agreement covers the relationship between a tenant and their landlord. Lease agreements will contain details surrounding the length of the lease and well as the rental payment. As with employment agreements, the law will automatically cover certain rights, but the lease agreement should still address them. For example, these include rights relating to eviction and letting fees.
Utility Contract
A utility contract is an agreement between your business and a company providing utilities such as gas and electricity. Most utility agreements are fixed-term contracts that outline how the utility company provides the service and how your business can pay. The contract may also include a procedure to end the agreement before a fixed date or change the address if you move premises.
Loan Agreements
Retail businesses that borrow money from a bank or lender may enter loan agreements. A loan agreement is a contract that outlines the relationship between the lender and the borrower. The loan agreement will include:
all the details of the loan, including the interest and the length of the loan; and
the collateral requirements that are part of the arrangement. Collateral is what the lender will be able to seize and sell if the borrower fails to pay back the loan.
Key Takeaways
Written contracts are legally enforceable in court and are a great way to protect your business transactions. For retail businesses, you should consider using contracts when:
dealing with business relationships;
creating employment arrangements; and
purchasing products from suppliers.
Having a binding contract allows your business to seek a court order forcing the other party to uphold their obligations. Alternatively, a court also has the power to make the defaulting party pay the other party for any loss incurred. However, a contract will only be enforceable if it contains all the elements of a binding contract.
If you need help with contracts for your retail business, our experienced contract lawyers can assist as part of our LegalVision membership. For a low monthly fee, you will have unlimited access to lawyers to answer your questions and draft and review your documents. Call us today on 0800 005 570 or visit our membership page.
Frequently Asked Questions
Do I have to use contracts in my business dealings?
No, there is no legal requirement to use contracts, but they are an excellent idea to protect yourself and your business.
Will a court always award damages if a party has breached the contract?
No, the court does not have to award damages, but it is a common remedy.
Structuring Your Business For Success
Tuesday 23 August | 11:00 - 11:45am
Online
Learn the best way to structure your business to maximise its success. Register today for our free webinar.
Register Now
Redundancies and Restructuring: Understanding Your Employer Obligations
Tuesday 27 September | 12:00 - 12:45pm
Online
If you are considering making roles redundant, it is crucial that you understand your legal obligations as an employer. Learn more in this free webinar.
Register Now
Was this article helpful?
Thanks!
We appreciate your feedback – your submission has been successfully received.
About LegalVision: LegalVision is a commercial law firm that provides businesses with affordable and ongoing legal assistance through our industry-first membership.
By becoming a member, you'll have an experienced legal team ready to answer your questions, draft and review your contracts, and resolve your disputes. All the legal assistance your business needs, for a low monthly fee.
Need Legal Help? Submit an Enquiry
If you would like to get in touch with our team and learn more about how our membership can help your business, fill out the form below.
Read other articles by Dillon
<!-/- Related Articles - Item -/->