How to Respond to a Cancellation Notice in NZ?

Updated on July 21, 2022
Reading time: 4 minutes
Receiving a notice from a client that they no longer require your services can be uncomfortable. However, remaining professional when responding to the cancellation notice can help you understand their reasoning and is essential to maintaining your business' excellent reputation. Additionally, if your client cancels the contract illegally, you may be able to seek compensation for the losses you incur. This article outlines how to respond to a cancellation notice, identify if a client is illegally terminating a contract and what you can do about it.
What is a Cancellation Notice?
A cancellation notice is a written notice that a contract will be terminated. It provides formal notice from the cancelling party that the contract will end on a specified date. Additionally, a cancellation notice often contains reasons why the client is cancelling the contract. This is important as if the reason is not valid under the terms of the agreement, the other party can seek assistance from the law to uphold the contract.
Responding to a Cancellation Notice
Not all cancellation requests are because of a dispute or other negative reasons. For example, you might receive a cancellation notice at the end of a long-term contract with thanks and appreciation for your services.
However, if a customer has sent you an unexpected cancellation notice, it can be challenging and uncomfortable. Additionally, you may feel disheartened, angry or stressed that you will no longer receive income from the contract. Despite this, it is important to remain professional and take the opportunity to improve your business practices if required.
Ensure that you listen to the client's reasoning and understand why they wish to cancel the contract. If it relates to your work performance, ensure you take steps to improve this. If they have found a cheaper option, assess how well your prices sit within the current market. Further, if the client has not provided any reason for leaving, you have the right to politely request an explanation. Importantly, it is best to address the situation head-on, but not aggressively. Inform the client that you understand their dissatisfaction and wish to correct the situation and hopefully have them as a client in the future.
It is not advisable to argue with them about their reasons for cancelling the contract. If they have made a decision, you are unlikely to change this. Instead, show that you understand and appreciate their feedback.
It is important to remain professional when responding to the cancellation notice. You should avoid saying anything unkind, sending malicious emails or letting the client know you are upset. Doing so risks both the business relationship and your business' reputation. Instead, take this as a learning experience and opportunity to improve your business.
Illegally Cancelling a Contract
If you believe your client is illegally cancelling your contract, you may need to take additional steps.
The contractual terms will determine the circumstances you can terminate the contract. Most contracts include termination clauses for common cancellation reasons. Additionally, there is often a 14-day cooling-off period where the client can change their mind about the services. Contracts can also include unforeseen events, such as a fire or earthquake, making it impossible to perform the agreed work. 
If your contract includes a termination clause, the client should reference this in their cancellation notice. Make sure you look at the contract terms to understand why your client wishes to end it. If you believe the client has incorrectly or illegally cancelled the contract, you may need to clarify this with them. If the client does not provide a sufficient reason, it is a good idea to contact a lawyer to ensure you are compensated for any losses.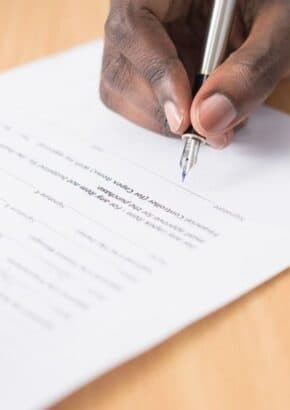 Commercial Contracts Checklist
To protect your business, ensure supplier contracts meet your business' needs. Our free Commercial Contracts Checklist will help.
Download Now
Key Takeaways
Receiving a contract cancellation notice is often unpleasant. However, you should remain as professional as possible. When responding to a cancellation notice try to understand the client's reasoning. You can use this as an opportunity to improve your business practices for the future. However, if you believe your client has illegally cancelled the contract, you should consult a lawyer who can help you seek compensation for losses incurred.
If you need help responding to a cancellation notice or with other contract questions, our experienced contract lawyers can assist as part of our LegalVision membership. For a low monthly fee, you will have unlimited access to lawyers to answer your questions and draft and review your documents. Call us today on 0800 005 570 or visit our membership page.
Frequently Asked Questions
Do I need to automatically accept that a contract has been cancelled if a client sends me a cancellation notice?
Not necessarily. If you believe the contract has been cancelled illegally, you should seek legal advice to see if you can be compensated for any losses you may have suffered.
Can I change the termination terms of my contract?
If required, you can amend the terms of your contract. You should seek legal assistance if you need to change the termination clause of your contract.
Structuring Your Business For Success
Tuesday 23 August | 11:00 - 11:45am
Online
Learn the best way to structure your business to maximise its success. Register today for our free webinar.
Register Now
Redundancies and Restructuring: Understanding Your Employer Obligations
Tuesday 27 September | 12:00 - 12:45pm
Online
If you are considering making roles redundant, it is crucial that you understand your legal obligations as an employer. Learn more in this free webinar.
Register Now
Was this article helpful?
Thanks!
We appreciate your feedback – your submission has been successfully received.
About LegalVision: LegalVision is a commercial law firm that provides businesses with affordable and ongoing legal assistance through our industry-first membership.
By becoming a member, you'll have an experienced legal team ready to answer your questions, draft and review your contracts, and resolve your disputes. All the legal assistance your business needs, for a low monthly fee.
Need Legal Help? Submit an Enquiry
If you would like to get in touch with our team and learn more about how our membership can help your business, fill out the form below.
Read other articles by Abby
<!-/- Related Articles - Item -/->