5 Key Terms of a Security Guard Service Contract in NZ

Updated on December 22, 2021
Reading time: 5 minutes
Security at venues and events is incredibly important. As a business owner, you may be interested in improving your business' security by hiring security guard services. Alternatively, you may be looking to start a security guard business. In both cases, you will likely use a security guard service contract arrangement. It is essential to ensure that this agreement is enforceable under law. When an agreement is enforceable, both parties to the contract must follow the agreement's terms. Penalties may also apply if you do not honour an enforceable contract. Indeed, your contracting party can ask the court to order damages for any loss they have incurred. A contracts enforceability stems from its key terms. This article will explain what a security guard service contract is and what key terms it should include.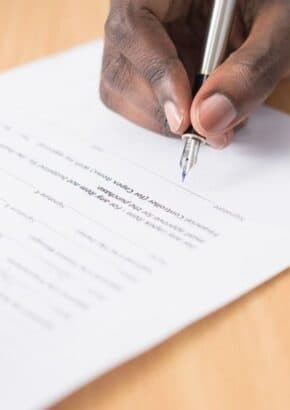 Commercial Contracts Checklist
To protect your business, ensure supplier contracts meet your business' needs. Our free Commercial Contracts Checklist will help.
Download Now
What Is a Security Guard Service Contract?
As the name suggests, a security guard service agreement governs the relationship between a security guard and their client. This may be between an individual security guard or a security guard business. It is important that your security guard service contract is drafted well so that it is enforceable in the event something goes wrong. A security guard service contract will usually be a fixed price contract. This means that the price is set before the parties enter into an agreement.
Key Terms of a Security Guard Service Contract
Scope of the Agreement
The scope of the agreement clause will outline what type of service the security guard will provide.
For example, imagine that the service is for a sports game event. In that case, the scope of agreement clause will determine whether the security guards are also in charge of checking tickets.
The scope of the agreement clause will also outline what event you are contracting the security guard for and whether it is recurring. 
Payment Terms
Another important clause that you should include in your security guard service contract is the payment terms. The payment terms will determine how the client will pay the security guard. This may be a one-off payment for a specific service. Alternatively, it could be frequent if you are hiring the security guards on multiple occasions. 
Health and Safety
When entering into a security guard service contract, it is also important that it includes a health and safety clause. This is because working as a security guard can be dangerous at times. Therefore, there should be procedures in place to protect them. Additionally, this clause can also include how much force a security guard can use, which should be in line with New Zealand law. Another important point to include in this clause is the security guard's dress. Security guards must be distinct and recognisable. Therefore, they usually wear bright colours. This clause can detail exactly what the security guard should be wearing. 
Termination Clause
Parties usually include a termination clause in an agreement to allow either party to cancel the agreement if they meet certain conditions. For example, such conditions might include a breach of contract. Additionally, parties might wish to terminate if the contract is no longer feasible for both parties. Parties also usually negotiate the conditions between themselves before they enter into the contract. Therefore, these conditions must be met before either party wishes to use this clause. If they are not, the court could rule it to be a breach of the contract. This could lead to the court granting compensation for the innocent party. 
Assignment
Another clause that may be included in a security guard service contract is an assignment clause. An assignment is when you transfer a contract to another party. Consequently, the new party takes on the benefits of the contract with the original contracting party. For example, a security company may assign a contract to another security company if they cannot complete the job themselves. Therefore, whether you include an assignment clause will determine whether the security company needs the permission of their contracting party before they assign the contract. 
Key Takeaways
Security guard services are essential to have when organising large events or to increase a venue's security. Businesses use a security guard service contract to hire a security guard or security company. The contract should cover the scope of the agreement, payment, health and safety, termination and assignment terms. You should ensure your contract sets out these terms clearly so that you can enforce the contract, should a dispute arise. When in doubt, you should get a lawyer's advice. Therefore, if you need help drafting or negotiating security guard service contracts, our experienced contract lawyers can assist as part of our LegalVision membership. For a low monthly fee, you will have unlimited access to lawyers to answer your questions and draft and review your documents. Call us today on 0800 005 570 or visit our membership page.
Frequently Asked Questions
Do I have to include a health and safety clause in my agreement?
No, you do not need to include a health and safety clause in your agreement. However, it is good to include so that the client is aware of what procedures must be followed.
Can anyone enter into a security guard service contract?
Not everyone can practice as a security guard in New Zealand. Indeed, you must have a specific licence to do so. This is issued by the Private Security Personnel Licensing Authority. Therefore, only licensed security guard businesses or security agencies can enter into a security guard service contract.
Was this article helpful?
Thanks!
We appreciate your feedback – your submission has been successfully received.
About LegalVision: LegalVision is a commercial law firm that provides businesses with affordable and ongoing legal assistance through our industry-first membership.
By becoming a member, you'll have an experienced legal team ready to answer your questions, draft and review your contracts, and resolve your disputes. All the legal assistance your business needs, for a low monthly fee.
Need Legal Help? Submit an Enquiry
If you would like to get in touch with our team and learn more about how our membership can help your business, fill out the form below.
Read other articles by Dillon
<!-/- Related Articles - Item -/->