How Can Client-Lawyer Privilege Be Voided in NZ?

Updated on February 2, 2022
Reading time: 5 minutes
Though being a lawyer and providing legal advice may sometimes seem as cool as an episode of Suits, lawyers have vital responsibilities to uphold the sanctity of the justice system. Lawyers have obligations to ensure that privileged information that clients share with lawyers remains completely confidential. However, there are some cases where lawyers will need to share privileged information, for instance, when that information is evidence of a financial crime or money laundering. There are exceptions to client legal privilege when the information is being used:
for a dishonest purpose; or

to commit an offence.
This article will outline client legal privilege, in what circumstances it is appropriate to void it, and how to report dishonest conduct or evidence of a financial crime while including privileged information.
What is Client-Lawyer Privilege?
People providing legal services, often including legal office staff, have unique legal obligations due to their position of power within the justice system. However, legal counsel have a unique position of power in the legal sphere as they provide legal advice and help with legal proceedings. As a result of this power, they deal with sensitive information and vulnerable clients when providing legal assistance. Because of this, lawyers have substantial obligations to their clients to ensure that they are not abusing their power inappropriately.
Maintaining client legal privilege is vital to the administration of justice. This obligation is set out in the Lawyers and Conveyancers Act (Lawyers: Conduct and Client Care) Rules 2008. These rules highlight the importance of confidence and trust in the relationship between clients and lawyers.
Client-lawyer privilege protects information shared by a client to a lawyer if the communications were:
meant to remain as confidential communications;

are regarding a legal matter; or

made to obtain legal advice.
What is Client Confidentiality?
You may have heard the term 'client confidentiality' used before and assumed it was the same as legal privilege. However, client confidentiality and legal professional privilege are two related but distinct concepts. Client confidentiality dictates that a lawyer must hold all information about their clients in confidence unless it relates to the possible commission of a crime that could lead to more than three years imprisonment. On the other hand, legal professional privilege is an idea that precludes anything a client shares with their lawyer if they are seeking legal advice. The lawyer cannot disclose any privileged information or client communications under any circumstances.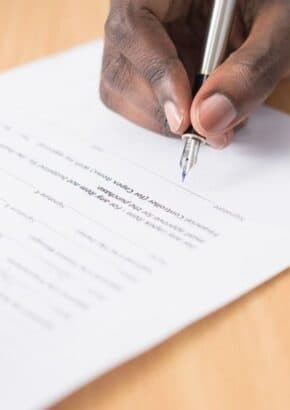 Commercial Contracts Checklist
To protect your business, ensure supplier contracts meet your business' needs. Our free Commercial Contracts Checklist will help.
Download Now
When Can Information Disclosure Happen?
However, there are a few cases where it is appropriate for a lawyer to disclose privileged information that their client has told to them.
Legal professional privilege may not apply to confidential communications made:
for a dishonest purpose; or

to enable the commission of an offence.
Often, the lawyer will have to balance their obligations and judge whether it is appropriate to disclose the client communications despite client legal privilege.
What is a Dishonest Purpose?
It is usually easy to determine if information is enabling the commission of an offence. However, the standard for whether dishonesty has occurred can be slightly more challenging to determine. Typically, it is whether or not a reasonable person would believe there is dishonesty. There must be evidence of this for the lawyer to report it. However, this does not even have to be if they believe that a client is acting illegally; any dishonest conduct is enough for a lawyer to report it.
How Should I Disclose Privileged Information?
Suppose a lawyer believes that they are uncovering a suspicious transaction or dishonest conduct. In that case, they must file a suspicious transaction report to the Department of Internal Affairs or the Law Society. Additionally, if the lawyer believes that a financial crime is occurring, the lawyer may also have to report to the police's Financial Intelligence Unit.
If a lawyer can report a suspicious transaction without disclosing any privileged or confidential information, they should do so.
It can be challenging to determine whether or not it is appropriate for a lawyer to disclose a client's information. The obligation of privilege and confidentiality competes with an obligation to report things they believe may be suspicious. Unfortunately, lawyers only have around three days to report any transactions they believe may be suspicious, so they must determine this quickly. The Department of Internal Affairs guidelines for lawyers and conveyancers regarding disclosing confidential information are also helpful to consider. The New Zealand Law Society has good resources on filing a suspicious activity report.
Key Takeaways
In conclusion, protecting confidential and privileged information is one of a lawyer's most important duties when providing legal assistance or helping with legal proceedings. However, lawyers also must disclose client communications, despite lawyer-client privilege, if they believe that a financial crime or dishonest conduct occurs. Deciding whether or not one should disclose confidential information is a complicated process for legal counsel. Still, the questions and resources listed above can help determine whether it is appropriate to disclose the information.
If you need help understanding how client-lawyer privilege works, our experienced disputes lawyers can assist as part of our LegalVision membership. For a low monthly fee, you will have unlimited access to lawyers to answer your questions and draft and review your documents. Call us today on 0800 005 570 or visit our membership page.
Frequently Asked Questions
Is dishonest conduct only crimes? 
No, dishonest conduct is not only criminal behaviour or offences. Lawyers should report any behaviour that may be dishonest.
Is all confidential information privileged? 
No, privileged information is a very high standard of information that should be prioritised over almost anything else. For example, information is privileged if it was meant to remain confidential, is regarding a legal matter; or was shared to maintain legal advice.  
Was this article helpful?
Thanks!
We appreciate your feedback – your submission has been successfully received.
About LegalVision: LegalVision is a commercial law firm that provides businesses with affordable and ongoing legal assistance through our industry-first membership.
By becoming a member, you'll have an experienced legal team ready to answer your questions, draft and review your contracts, and resolve your disputes. All the legal assistance your business needs, for a low monthly fee.
Need Legal Help? Submit an Enquiry
If you would like to get in touch with our team and learn more about how our membership can help your business, fill out the form below.
Read other articles by Abby
<!-/- Related Articles - Item -/->