4 Legal Considerations Before Starting an E-Commerce Business in New Zealand

Updated on March 2, 2022
Reading time: 5 minutes
Starting an online business can be a great way to work a flexible job from the comfort of your own home. Many people start online businesses based on their passions or sell goods they manufacture themselves. While creating an e-commerce business, there is both business law to consider and additional implications dealing with a company in an online space. This article will outline four legal considerations that you should assess before starting your e-commerce business, including:
how you should structure your business;

what privacy laws you need to consider;

what consumer laws you should be aware of; and

how to do taxes for your e-commerce business. 
1. Business Structuring 
You will need to choose what business structure you wish to operate as. You could choose to start as a sole trader, partnership, or company. Which business structure is best for you will depend on the specifics of your business and how it operates. Starting a partnership could be the right move if you have a business partner. If you want to separate your business and personal finances, then creating a company could be the way to go as a company is its own business entity. If you want a quick and easy option for starting your business, you could become a sole trader. The immediate impact of your business structure is on how you will conduct your tax and your reporting requirements. 
2. Privacy Laws
If customers buy goods or services from your e-commerce business – regardless of whether or not you use a third-party merchant like TradeMe, or your own website – you will likely receive or store their credit card details, physical address, IP address, or other personal information. If so, you need to make sure that you are protecting their data. You will need a firm privacy policy so that your customers understand what you are doing with their data. Additionally, you will need to make sure that you have comprehensive cybersecurity to ensure that your customers' data is protected. A privacy breach can be seriously damaging for the reputation of a business. 
3. Consumer Law 
You will need to make sure that you legally sell goods online through your e-commerce store. This means you will have to abide by the same consumer laws that brick-and-mortar shops have to abide by. Therefore, you will need to ensure that you uphold an excellent standard of quality for your products and grant your customers a remedy – by way of replacement, repair, or refund – if there is an issue with the product. If someone states that they have a problem with one of your products, you cannot just ignore them and hope that they forget about the issue. If you do not adequately address the issue, your customer can challenge you in the Disputes Tribunal to receive compensation for their faulty good, which will cause further legal issues down the line.  
4. Tax Considerations 
If you run your own business, you will need to pay your own taxes. You will need to pay income tax on any money that you profit from your business. Therefore, you will need to keep comprehensive records of your business's income and expenses to ensure that you can effectively do your taxes. If you do not properly file your taxes, you may be at risk of severe legal penalties. 
Additionally, if your business has a turnover of greater than $60,000 a year, then you will need to register for GST. This means that you will need to charge an extra 15% tax on all of your goods to be paid to the government. However, you will also be able to claim back GST on all goods that you have bought for your business.
5. Advertising 
If you are running an e-commerce business, you will likely be conducting most of your business online. Therefore, you will need to be advertising your products through electronic methods. However, you will need to obey New Zealand advertising laws by ensuring that you honestly represent your products online and advertise them accurately. You should make sure that you make the prices of your goods and additional shipping costs clear. Additionally, if you pay people to advertise your products, you need to make sure that they disclose that they have been paid for advertising.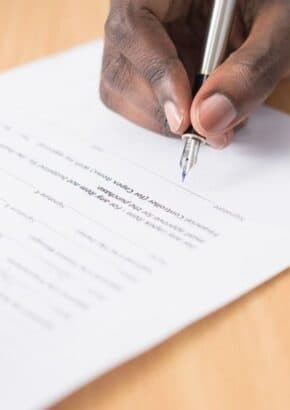 Commercial Contracts Checklist
To protect your business, ensure supplier contracts meet your business' needs. Our free Commercial Contracts Checklist will help.
Download Now
Key Takeaways 
Running an online business is an exciting way to do flexible work from the comfort of your own home. However, when starting up an e-commerce business, you will still need to ensure that you obey New Zealand business, consumer, privacy, and tax law. If you need help with understanding your legal obligations for your e-commerce business, our experienced e-commerce lawyers can assist as part of our LegalVision membership. You will have unlimited access to lawyers to answer your questions and draft and review your documents for a low monthly fee. Call us today on 0800 005 570 or visit our membership page.
Frequently Asked Questions
When do I need to register my business for GST?
You will need to register your business for GST if your business has a turnover of more than $60,000 a year. 

Can I just ignore a customer if they have an issue with my product? 
No, even though your business is operating online, you need to make sure that you obey New Zealand consumer law and provide a remedy for any customers that experience issues with your products. 
Was this article helpful?
Thanks!
We appreciate your feedback – your submission has been successfully received.
About LegalVision: LegalVision is a commercial law firm that provides businesses with affordable and ongoing legal assistance through our industry-first membership.
By becoming a member, you'll have an experienced legal team ready to answer your questions, draft and review your contracts, and resolve your disputes. All the legal assistance your business needs, for a low monthly fee.
Need Legal Help? Submit an Enquiry
If you would like to get in touch with our team and learn more about how our membership can help your business, fill out the form below.
Read other articles by Abby
<!-/- Related Articles - Item -/->