Can My Online Business Accept Electronic Signatures?

Updated on August 4, 2022
Reading time: 4 minutes
Electronic signatures are a modern way of verifying documents. Many online businesses now use digital signatures in day-to-day business transactions. The COVID-19 pandemic has made in-person document signing particularly challenging. 
However, documents signed electronically are not universally accepted, and they do not work for some types of documents. There are also specific requirements the signatures must meet to be valid. If you are wondering whether or not your online business can use electronic signatures, this article will helpfully outline what:
an electronic signature is;
elements you need for a valid electronic signature;
documents you can sign electronically;
documents you cannot sign electronically; and
institutions will and will not accept electronic signatures.
What Is an Electronic Signature?
Electronic signatures are governed by the Contract and Commercial Law Act (CCLA) in New Zealand. You can use an electronic signature to sign a document in the same way you would use a written signature. Typically, digital signature software also allows you to send documents online, so no printing is required. 
Generally, so long as electronic signatures are valid and specific requirements are met, they can be just as acceptable as written signatures. 
What Do You Need for Valid Electronic Signatures?
Under the CCLA, electronic signatures require a few essential elements to make them valid. These include:
a clear intention of the signer to sign the document;
a reliable and appropriate method of signing electronically; and
all parties consenting to the use of electronic signatures.
A 'reliable' electronic signature generally means that only the person who needs to sign the document can access and share it. Additionally, electronic signatures can be more complex to verify than written signatures, and people cannot witness the signing process as easily. Therefore, you will need to gather more information to ensure the digital signatures are reliable.
Typically, when you receive a document with an electronic signature, you also need to capture the time and source details of the signature. These will likely need to be within the file itself.
Lastly, a reliable document will be impossible to change after signing. Therefore, neither you nor your clients can doctor the document after you have signed it. Other businesses may not accept documents that do not have these elements showing that they are "reliable," and neither should your business.
What Documents Can You Sign Electronically?
Whether you can accept online signatures depends on the nature of your business and the work it does. Some documents that you can sign electronically are:
agreements for the sale and purchase of land and property;
leases;
commercial documents;
employment agreements; and
trust documents.
These documents may be relevant for your online business, especially commercial documents and employment agreements.
Even if a customer or partner has signed and submitted a document electronically, you must keep a record of these documents.
It is best practice to keep comprehensive records of all signed documents sent to your business and any documents you sign on behalf of the business. This is to ensure that you are not breaching any contract requirements.
What Documents Can You Not Sign Electronically?
However, there are some types of documents you cannot sign electronically. These include:
wills;
affidavits, statutory declarations, and other documents signed under oath;
any documents that may result in human rights infringements, including search and seizure documents; and
power of attorney documents.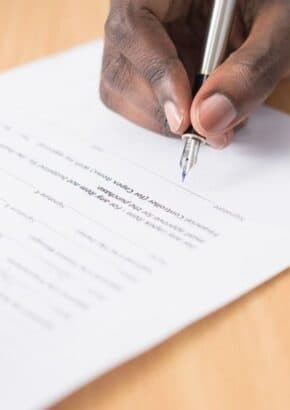 Commercial Contracts Checklist
To protect your business, ensure supplier contracts meet your business' needs. Our free Commercial Contracts Checklist will help.
Download Now
What Institutions Will and Will Not Accept Electronic Signatures?
The Government and Crown Entities
Previously, the government was highly reluctant to use digital signatures. However, the government and businesses have been more flexible about electronic signatures since the Covid-19 pandemic. Social distancing and isolation requirements made it challenging for people to sign and witness documents in the traditional way. Therefore, the approach of most businesses to electronic signatures has typically become more accepting.
The Companies Office
The Companies Office will accept documents that you have signed electronically. You will not need to send documents to the Companies Office unless your business is registered as a company. 
Documents that the Companies Office will accept electronic signatures on include:
financial statements;
director and shareholder consents;
director's certificates for the issue of shares or options; or
resolutions of solvency.
Key Takeaways
Electronic signatures are a great way to bring your business into the modern-day and allow your online business to continue to grow without being hindered by the COVID-19 pandemic. Whether you can accept electronic signatures depends on the type of business you run.
If you need help with understanding how to incorporate electronic signatures into your business, our experienced eCommerce lawyers can assist as part of our LegalVision membership. You will have unlimited access to lawyers to answer your questions and draft and review your documents for a low monthly fee. Call us today on 0800 005 570 or visit our membership page.
Frequently Asked Questions
Can I use electronic signatures on documents signed under oath?
No, any documents that are required to be signed under oath are explicitly prohibited from being signed electronically.
Does the government accept documents signed electronically?
The government's approach to accepting documents signed electronically has loosened throughout the COVID-19 pandemic. However, if you need to sign any documents provided by the government, you should ensure that you clearly understand how these documents can and cannot be signed.
Structuring Your Business For Success
Tuesday 23 August | 11:00 - 11:45am
Online
Learn the best way to structure your business to maximise its success. Register today for our free webinar.
Register Now
Redundancies and Restructuring: Understanding Your Employer Obligations
Tuesday 27 September | 12:00 - 12:45pm
Online
If you are considering making roles redundant, it is crucial that you understand your legal obligations as an employer. Learn more in this free webinar.
Register Now
Was this article helpful?
Thanks!
We appreciate your feedback – your submission has been successfully received.
About LegalVision: LegalVision is a commercial law firm that provides businesses with affordable and ongoing legal assistance through our industry-first membership.
By becoming a member, you'll have an experienced legal team ready to answer your questions, draft and review your contracts, and resolve your disputes. All the legal assistance your business needs, for a low monthly fee.
Need Legal Help? Submit an Enquiry
If you would like to get in touch with our team and learn more about how our membership can help your business, fill out the form below.
Read other articles by Abby
<!-/- Related Articles - Item -/->