What Should I Include in My Website Terms of Use Document?

Updated on August 4, 2022
Reading time: 5 minutes
If your business has a website, you will need a terms of use document. This legally binding agreement sets out the rules for people using your website. These rules detail what visitors cannot do when using the website and a disclaimer that limits your liability. A terms of use document is a legally binding agreement. This article will outline:
what essential elements your terms of use document should include;
what other sections may be relevant for your document;
how visitors can find your terms of use document; and
how often you should update your terms of use. 
Essential Elements for Your Terms of Use Document
There are a few essential clauses you should include in your terms of use document. Businesses almost universally need these clauses, and they are relevant to all websites. The following table describes these sections. 
| | |
| --- | --- |
| Acceptance of terms | You will need an acceptance of terms clause. This section will tell the users that they accept the terms of use simply by using your website and any services you provide. This clause also establishes that this document is a binding legal agreement. |
| License to use | You will need to include a license to use section, stating that the visitor only has the right to use the website if they comply with the terms of use.  |
| Explanation of cookies | If your website uses cookies, you will need to explain to your visitors how you use cookies to store information. You must also inform them how they can switch off cookies if they wish.  |
| Acceptable use policy | An acceptable use policy will describe what is and is not appropriate behaviour. These can include harassing other members, breaching copyright, or harvesting user data. This policy is critical if customers can upload content to your site. You can use this policy to regulate the type of content customers upload, allowing you greater control of your brand. |
| Rights and ownership | Outlining your rights and ownership will provide your users with information on your intellectual property rights. Further, this section can outline what penalties occur if a visitor breaches these rights. |
However, a terms of use document does not cover all aspects of the use of your website. You should also create a privacy policy to ensure your users know how you collect their information. 
Other Relevant Issues
The other topics your terms of use document needs to cover will depend on how people can interact with your website. In some cases, users can contribute or post on the website directly. Therefore, you should consider how you want to keep a check on what can be posted on your site. You should think about how you share information with third parties and what you may need to ask of the people who use your site.
For example, you may want to include:
how you will respond if someone posts unacceptable content on the site;
what information you share with third parties and how you do so;
what constitutes unacceptable content or behaviour;
how you manage ownership and licensing of user contributions;
how you moderate user content;
how you will ban abusive commentators; and
how and when you can amend the terms of use.
Furthermore, you should consider how much you need to limit liability for yourself. If something goes wrong on your site, you will likely be the person facing the blame.
For example, if your website goes down for a while, you could be liable for a customer's losses if they relied on your website to conduct business.
Therefore, you should write a disclaimer detailing what situations are and are not your responsibility.
Accessing the Terms of Use Document
You should place an accessible link to your terms of use agreement on your website's home page. Sometimes, this link is in a pop-up box when a visitor first opens your web page. Alternatively, you may only need a terms of use document if someone registers with your site. So, you could include it in the registration process.
How Often Should I Review My Terms of Use?
You should ensure that your website terms of use are relevant and up-to-date. There may be law changes that mean that you need to update your terms of use. Generally, if you set a regular review period of every few months, you will likely ensure that your terms of use agreement is still relevant and protects your interests.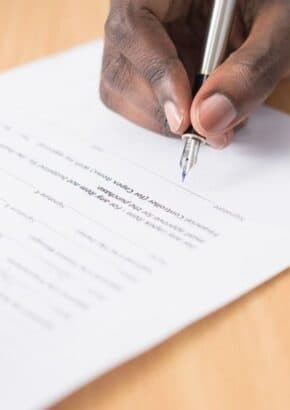 Commercial Contracts Checklist
To protect your business, ensure supplier contracts meet your business' needs. Our free Commercial Contracts Checklist will help.
Download Now
Key Takeaways
A complete and up-to-date terms of use document is essential for your website and business. There are some vital clauses that you need in your terms of use document. However, there are additional elements that you can include depending on how your customers interact with your website.
If you need help with writing a terms of use document, our experienced eCommerce lawyers can assist as part of our LegalVision membership. You will have unlimited access to lawyers to answer your questions and draft and review your documents for a low monthly fee. Call us today on 0800 005 570 or visit our membership page.
Frequently Asked Questions
Can I hide my terms of use document on my website?
No, you need to ensure that your terms of use document is clearly accessible to those who use your website.
Is my terms of use document legally binding?
In most cases, your terms of use agreement is legally binding. You should therefore make sure it is as up-to-date and comprehensive as possible.
Structuring Your Business For Success
Tuesday 23 August | 11:00 - 11:45am
Online
Learn the best way to structure your business to maximise its success. Register today for our free webinar.
Register Now
Redundancies and Restructuring: Understanding Your Employer Obligations
Tuesday 27 September | 12:00 - 12:45pm
Online
If you are considering making roles redundant, it is crucial that you understand your legal obligations as an employer. Learn more in this free webinar.
Register Now
Was this article helpful?
Thanks!
We appreciate your feedback – your submission has been successfully received.
About LegalVision: LegalVision is a commercial law firm that provides businesses with affordable and ongoing legal assistance through our industry-first membership.
By becoming a member, you'll have an experienced legal team ready to answer your questions, draft and review your contracts, and resolve your disputes. All the legal assistance your business needs, for a low monthly fee.
Need Legal Help? Submit an Enquiry
If you would like to get in touch with our team and learn more about how our membership can help your business, fill out the form below.
Read other articles by Abby
<!-/- Related Articles - Item -/->